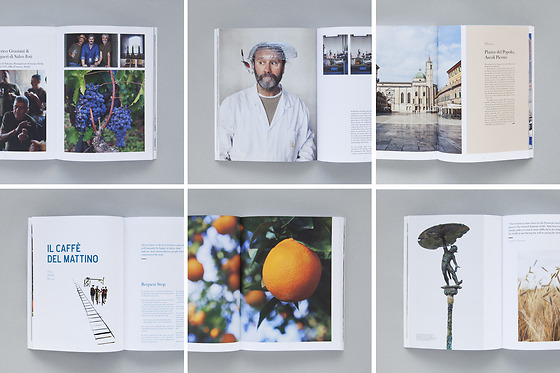 Caffe Italia is an independent publishing project that celebrates the soul, flavors and backbone of Italy through image and text, created by Swedish photographer-cum-curator and independent publisher Johanna Ekmark. I felt the same way my father did, two years ago, when Johanna and I met at her studio on the island of Kungsholmen, Stockholm to talk about her project. She struck me with her focus and intensity--this creation was an imperative, a physical thing borne out of a deeper, philosophical purpose. More importantly, it was a testament to a deep-seated devotion. "Caffe Italia is my 30 year love story with Italy," she explained simply.
Today time seems to have accelerated to an all-time high as emphasis is placed on faster output, in smaller, bite-sized pieces of content that have a tendency to run through us like refined sugar. Caffe Italia offers something more robust; something to savour. Johanna zeros in on each of her handpicked features, of which there are six in each 144 page edition, shining a light on the "minor stories of greater importance."
This means you get something much different from your stereotypical Italian food, car and fashion coverage. Caffè Italia documents authentic craftsmanship, farmers, beloved traditions and freeze-frames the daily ephemera that convey Italy in its essence. In Il Numero Uno, renowned Chef Corrado Assenza meditates on the humble caper plant, we get an intimate glimpse of the secluded, volcanic island of Stromboli and the artisans behind the handmade Chiavari chair at the Fratelli Levaggi factory, to name a few. In the second volume, Il Numero Due, Assenza returns to pay homage to the Sicilian orange, we learn about the esoteric Etruscans' ancient civilization and whimsical glass artisan Massimo Lunardon's contemporary bottega. We even get an impressionistic exploration of the Piazza, transmitted in a stream-of-consciousness flow reminiscent of Virginia Woolf or Italo Calvino. You can feel, as you read each piece, that Caffe Italia's collaborators have been chosen with care.
The poignancy of Johanna's documentary eye can be traced at least in part to her unique vantage point as a foreigner. "I think I see Italy in a different way because I have the unbiased perspective of a non-native," she says. Johanna was born in Sweden but grew up between Stockholm and Maremma, moving to Tuscany when she was just seventeen. Inspired by the writings of John Seymour, she settled as a biodynamic farmer in the hills of Emilia Romagna in 1984, where she raised her two young boys. Twelve years later Johanna began photographing for high end magazines in Milan, honing her photography skills as she travelled the country. Over time, she witnessed the gradual degradation of the editorial industry's standards. "Too many important stories were passing me by, of real encounters with real people," says Johanna. "It was time to share these stories in the right way, with quality content and material from start to finish."
Given the current climate of the publishing world, the integrity and quality of Caffe Italia is astonishing. Johanna collaborates with esteemed Trifolio srl, art book printers in Verona, who marry twenty-first century industrial technologies with the skill of a traditional artisan print shop. Each volume is printed on Arctic Paper's Kristall Munken, an uncoated, natural, matte paper milled through responsible forestry. The high white imbues stunning dimension and tonal contrast to the prints: looking at a wave break against a sailboat in Il Numero Due, I'm entranced by the depth of the blue water, the precision of the white spray. It feels as though I could be studying the impossibly nuanced brush strokes of an oil painting.
For the purpose of categorization, Caffe Italia calls itself an art-book series -- a well deserved title. "I decided to put a letter on the spines of each volume, first a C, then an A, to ensure that there is a predetermined end point. Your collection is complete when it spells Caffe Italia" Johanna explains. In truth, however, Caffe Italia is more than that. It is the connective tissue for a growing network of curious minds, a rare find that puts excellence before market. It is something to be passed from individual to individual, to be found in the local bookshop of a small town like Bagno Vignoni, at an eco-retreat in the hills of Vetulonia or in a design shop in New York City. It is, as my father said after reading Il Numero Due, a treasure, a journey, a one-of-a-kind venture into Italy. And it is dedicated to us, the lucky ones who take the time to discover it.
Lara Andersson